Cambridge Houses for Rent
9 Listings Showing 1 to 9
This delightful near new property is in pristine condition inside and out. From the lovely kitchen, including scullery, to the ...
$560 per week
This is a luxury home seeking executive tenants with exemplary living standards and top notch references. If this is not ...
$650 per week
This delightful property has been tastefully refurbished throughout. The kitchen is fabulous and offers the option of a double door ...
$460 per week
Lovely warm 3 bedroom home with large deck faced for the sun. As an added bonus this property includes some ...
$400 per week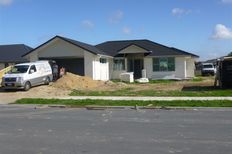 This lovely brick home is situated in a new subdivision and offers the following: Kitchen with dishwasher, waste disposal & gas ...
$550 per week
Lovely warm little home with heat pump, HRV, dishwasher, gas hot water, Fibre and large sunny deck. Section is fully ...
$370 per week
Cute as a button in Cambridge.This beautiful Lockwood has 3 bedrooms, 2 living areas and a gas fireplace to keep ...
Cambridge
27a Hamilton Road
$390 per week
Designed to capture the sun this near new family home has two living areas, four bedrooms and well equiped kitchen ...
$525 per week
No young children. Open plan kitchen, dining and living. Heatpump and fireplace. Plenty of off street parking. No dogs, cats are OK. Available 10 ...
Cambridge
87 A Scott Street
$330 per week
Advertisement
Advertisement