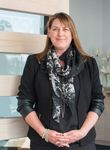 Real estate profile for Dianne Holland
Bronwyn Kay Agency Ltd (Licensed: REAA 2008) - Gisborne
Mobile: 027 442 2588 DDI: 06 869 0088 Email me

---
Many in Real Estate already know Dianne Holland and it will come as no surprise that she is now joining the industry. Having built an impressive investment and property management portfolio, Dianne is now ready to help others achieve their real estate goals.
Dianne loves real estate – all sorts of real estate. Don't let her apparent newness to the industry fool you – this lady has a wealth of knowledge in business, life and real estate. Her attention to detail and broad knowledge base makes her the natural choice when you are looking for a salesperson to help with your next real estate decision.
And when it came to choosing an agency to work with, the Bronwyn Kay Agency was Dianne's natural choice. "Having worked with many agents around town, it is now a real privilege to be part of the friendly and approachable team at the BK Agency – and they really know their stuff."
You will be seeing a lot more of this energetic lady, so remember – when you want to sell or buy, you need Di!
Sell or Buy, you need Di!
---
5 Listings Showing 1 to 5