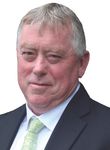 Real estate profile for Rick Mooney
Synergy Realty Group Ltd (Licensed: REAA 2008) - RE/MAX SYNRG
Mobile: 021 742 596 Email me

---
My background is from the melting pot of New Zealand "South Auckland" I was born in Papakura and grew up in Manurewa and Papatoetoe. I thought about Real Estate as an 18 year old and decided it was something I might like to try one day. That one day came 22 years later.
I came to Real Estate at the begining of 1997 with a background in retail sales, office administration, Key Account management.
Historically I am a bit of a self starter with a tendency to commit totally to whatever I choose to do.
In past roles I developed many skills that have been perfect for my current role.
I realised from Day 1 that to be successful in Real Estate it would be necessary become highly knowledgeable in a diverse range of things from understanding peoples needs, reading body language, studying trends, local body regulations, legal requirements, mortgage criteria, house construction, computer competence and most of all to be totally honest and upfront with people.
In Real Estate there is no room for dishonesty in any form and my personal beliefs have been a great asset and strength.
This journey has carried on for nearly 20 years now and there are many more fantastic memories than there are disappointments. Like any career there are challenges often outside your control and you are continually changing the way you work to keep pace with the rapidly changing industry.
In partnership with Leaders, I have had enjoyed some wonderful, rewarding times. Over the years I have had the privilege to meet many wonderful families and individuals who I have had the honour of assisting in the buying and selling of their most prized assets.
Very few jobs can be as personally satisfying nor as mentally demanding. I now work with my wife and daughter as part of Team Mooney. A team within a Team.
I appreciate you taking the time to read this brief background on me. If you are considering selling your home or buying a home or investment property I can only say that if you chose to deal with Team Mooney we will use every skill and talent we possess and call on the support within the team and the greater Leaders team to deliver you a result that more than meets your expectations.
I can be contacted by mobile, landline, email or fax. Call anytime for personal, confidential assistance.

Personal notes
Happily married 37 years
2 children
5 grandchildren
2 dogs
---
2 Listings Showing 1 to 2